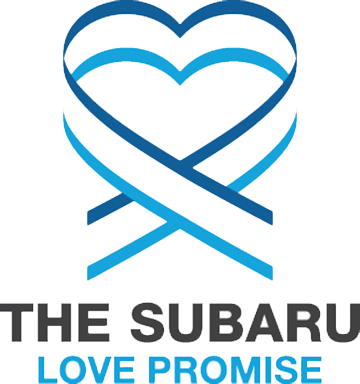 What is the Subaru Love Promise?
Subaru and our retailers believe in making the world a better place and the Subaru Love Promise is our vision of respecting all people. This is our commitment to show love and respect to our customers and to work to make a positive impact in the world.
How is Johnstons Subaru dedicated locally to the Love Promise?
Johnstons Subaru understands the importance of corporate responsibility and the positive impact it has on people, the environment and the communities we live in. With that social responsibility in mind, we try to 'Pay it Forward' in many ways. From car meets to golf tournaments, fundraising to sponsoring; Johnstons Subaru takes a pro-active approach to helping make our community a better place for everyone!
Precious Paws, ASPCA, Middletown NY Humane Society
Boys & Girls Club of Walkill, Big Brothers & Big Sisters
RECAP, JFS Kids Connect Program, Jewish Family Services
The Brittany Miller Foundation, The Allyson Whitney Foundation
Love Promise Stories from Johnstons Subaru
Subaru and Johnstons Subaru believe in making a positive impact on the communities in which we live and work. We uphold that belief through our Love Promise Community Commitment. Every month, we select inspiring stories from customers and partners from around our area who strive to support our collective commitment and feature them here
Customer Service - Mike T
I picked up my Subaru Outback and you would think I bought a house in Key West. What a great customer experience I received from Johnstons. This is my 1st Subaru and the staff was more excided them me through the whole process. Even the GM Chris was out in the showroom talking and joking with us and other customers. It felt like we were buying a car from family. Thank you Johnstons Subaru!
---
Montgomery Food Pantry - Mark C
Johnstons Subaru has donated over $6,000 to our local food pantry. Johnstons is always helping all types of local charities. With the money we are able to keep our faculty clean and updated as best as we can. Every dollar helps. Thank you again Johnstons Subaru!
---
Aviation Community - Christopher L
PilotFun101 & Orange County Pilots Association would like to say THANK YOU to Johnstons Subaru for their generous donation for our local Fly-In event! We had over 140 people and their families. Without Johnstons help this event might not have happened the way we wanted it to be. Johnstons cares about all avenues of local charities and non profit organizations that are just trying to get people together and help others. Thank you Johnstson Subaru!!
---
Leading kids in the right direction. - Francis S
Young Warriors Boxing Team Academy in Middletown, New York is helping to keep kids out of trouble and off the street. "You feel down, you feel lonesome, you want to talk to somebody, I'm here." Francis Santiago founded the Boxing Team in 2016 as a way to incorporate his passion for the sport with his desire to help the young kids in the community. Coach Paco, as he is locally known, strives to keep kids off the street and out of trouble. While learning the skills necessary to box, they are also learning life skills such as respect and discipline. He tells his students that many great boxers succeeded because they found a good coach, "someone who led them the right way." Coach Paco is strict with his students about doing well in school and is in contact with their teachers. He stresses the importance of eating well and staying off drugs. With the generous donation of $40,425.00 from Subaru of America and Johnstons Subaru, Young Warriors Boxing Team Academy can continue to provide kids with a safe place to spend their time after school. New equipment, clothing, shoes as well as travel expenses were all costs that previously were funded out of pocket by Santiago himself. Coach Paco has also paid for many of the children's basic needs, feeding them when they come to the gym hungry, buying books needed for school as well as clothes and sneakers. Christine Brinckerhof of the Middletown Parks and Recreations has provided the Boxing Team with a space to practice. The Parks and Recreation Center will soon be moving to a new location, sharing a space with the Middletown Police Academy. This community involvement, along with the partnership with Subaru of America and Johnstons Subaru, has given Coach Paco the support he needed to continue to help the local youth become good citizens and students, and perhaps a few good athletes as well!
---
Bringing Warmth and Love to Cancer Patients! - Daniela V
Johnstons Subaru and The CTWHV Chapter of the Leukemia & Lymphoma Society (LLS) have partnered to make a difference in the lives of people battling cancer in the Middletown, NY community. The partnership called Subaru Loves to Care provides warm blankets, kids' craft kits and loving messages of hope and inspiration written by Subaru customers to patients fighting cancer at Orange Regional Medical Center. HUGE Thank you to Johnstons Subaru for donating 80 beautiful blankets and 30 craft kits to Orange Regional Medical Center to spread warmth to their patients. Patients are in the infusion center for hours at a time and these blankets keep them warm as they are going through treatments. The craft kits are a way to help patients and family members keep busy while they undergo treatment. On behalf of LLS and everyone fighting or in remission from cancer and the people who love them, huge and heartfelt thanks to Johnstons Subaru and the entire Johnstons Subaru family for joining the LLS mission to create a world without blood cancer.
---
Every Child Deserves the Chance to Play Baseball! - Jan B
A "Field of Dreams" is being built by Beautiful People, the Miracle League of Orange County NY, an accessible safe surface ball field for athletes with special needs. The project moved from vision to reality on the Daniel Fratto Memorial Field with the amazing, dream-like donation of $41,204!! We thank you Johnston's Subaru, and Subaru of America for enabling our outreach to extend to many more children and adults, those with mobility challenges to be included in team sports.
---
Gratitude from KidsConnect - Elise G
The KidsConnect Program of Jewish Family Service bows deeply to our friends at Johnstons Subaru. When Steve Jardine and his team learned of the financial needs that our program faced, they took action. With their conviction towards helping the community, they didn't hesitate. KidsConnect serves children with all sorts of disabilities and their families. Programs are designed to offer recreational, educational, and social opportunities. With serious funding cuts, the entire program was in jeopardy. Money raised both in the 2015 and 2016 Charities of the Month Campaigns helped to fund our KidsConnect Camp and our Families Connect Program. Camp offers an amazing opportunity during the summer time when most other programs (including summer schools) are finished. Families Connect gives siblings, parents and guardians a chance to engage in fun activities while sharing with other families. Aside from great times, the family members experienced connection and support. Yes! Johnstons Subaru keeps their "Love Promise." The promise has had an impact on the JFS Orange mission which is to, "empower all people facing challenging times to live with dignity, hope and strength." Deep gratitude to our friends at Johnstons Subaru!
---
Britany Miller Donation - Dean M
Johnstons has been involved with the Brittany Miller Foundation for 19 years now. Today was a bitter sweet, emotional day. Not only was this Johnstons largest contribution, but also the biggest donation in this Subaru of America, Inc. district. $26,019!!!! Thank you to Dean Miller and the 100% voluntary staff at the Brittany Miller Foundation for providing the local community with such an amazing charity.
---
Johnstons Subaru Makes Humane Society of Middletown, NY Charity Of The Month - Katrina D
We would like to thank Johnstons Subaru, and especially Steve Jardine, for making us the Charity of the Month. Your generosity will truly help us to help the sweet shelter animals that we have in our rescue. It is very difficult in today's economical environment to raise money to help all the stray animals and to save the ones who would be euthanized if shelters could not take them. Therefore, we cannot thank you enough for choosing us to give such a generous donation. You are one of a kind, and we cannot stress enough how much we appreciate what you did for us and for the other charities that you donating to. We wish there were more businesses who gave back. THANK YOU THANK YOU. Thank you to too Katrina for helping to pull this wonderful event together. Bless you Johnstons Subaru. -Humane Society of Middletown, NY August 2014 Charity of the Month
---
Johnstons Subaru Sponsors Important and Tuner Classes of annual carmeet - Dave S
Johnstons Subaru supports local organizations in any way possible. From car shows, to BBQ's, to family fun events, we try and assist in creating an exciting lifestyle for our staff, their families and our customers! The Orange County Antique Auto Club, Inc. hosted their 41st Annual Car Meet on July 14, 2014. Johnstons Subaru was a sponsor for the Import and Turner Classes. It was a great day with many cars on display. Even some of our employees entered their vehicles into the show. We are always please to help our community and support family events for everyone to enjoy.
---
Johnstons Subaru charity of the month - Dave S
Johnstons Subaru is pleased to have our Charity of the Month Program. This is our way of paying it forward to local organizations that are in need. Every month, Johnstons Subaru chooses a local organization in need and donates $25 for each vehicle purchased during that designated month. The Food Bank of the Hudson Valley was chosen as the July 2014 Charity of the Month. The Food Bank of the Hudson Valley is a non-profit located in the Hudson Valley and serves more than 400 feeding programs in six counties - Orange, Dutchess, Putnam, Rockland, Ulster and Sullivan. The feeding programs consist of food pantries, soup kitchens, emergency shelters, day care centers, senior centers and more! Each $1 donated allows the Food Bank to provide 4 meals worth of food to the hungry in our communities.
---
Johnstons Subaru charity of the month - Dave S
Johnstons Subaru aims to give back to the community in which we serve. We aim to humanize our retailer and show that Subaru is 'Good People, Doing Good Things!' Our Charity of the Month program is our driving force that helps us 'pay it forward.' We do this by selecting an organization each month to donate to. The Brittany Miller Foundation was June's Charity of the Month. The non-profit was created to provide financial assistance to families with children suffering from cancer. The financial assistance is not to provide funds for medical expenses, but to provide for 'hidden' costs like travel, hotels, restaurants, tolls, gasoline, etc. June 14, 2014, Johnstons Subaru presented The Brittany Miller Foundation with a check for $3,250 to help provide this much assistance to families in need. We are pleased and honored to be able to support our community and this great organization!
---